Mental Health Support Worker
Exeter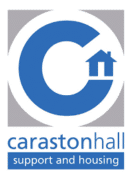 We are looking to recruit full time Mental Health Support Workers to work in our 24hr supported living service in Exeter supporting adults with enduring mental health needs, learning difficulties and other complex needs.
This is a varied and very interesting role that would suit someone who would like to progress in their career in the social care sector.
Caraston Hall is a great company to work for, we support our staff and offer a wide range of training including opportunity to study for the NVQ Level 3 in Health and Social care.
The successful applicants will be required to work early, day and late shifts across a rolling rota.
The person will be required to provide a two satisfactory references and a satisfactory enhanced DBS check.
Essential details:
Responsibilities and Duties
Support clients with all aspects of their agreed support/care plans, achieve planned goals and personal outcomes and reach their full potential.
Ensure clients are at the centre of any planning about their own lives.
Support clients to manage their medication, including administration, where appropriate
Support clients to develop personal, domestic and social skills to maximise their independence.
Maximise clients' entitlement to housing and welfare benefits and help them to budget and manage their finances, as appropriate.
Actively listen to clients' views, decisions and choices and support clients to make informed choices and decisions about all aspects of their care and support.
Support clients to integrate and take an active part in the wider community. Support clients to access employment, education and leisure opportunities and to take up new interests, make new friends and access community facilities of their choice.
Applicants ideally would have :
A minimum of 5 GSCES or above.
An understanding the needs of people with health and social care issues.
Basic Computer skills - able to use MS Word.
Good written skills
A Confident, professional and calm manner at all times, even when under pressure.
Resilient and able to cope with multiple internal and external demands
Salary:
● Entry Support Worker Rate £10 per hour rising to £10.20 per hour after probationary period
● Additional enhanced payments (£11.50 to £11.70 per hour) for unsociable hours and overtime
● Career progression to Senior Support Worker - rate £11.41
Annual leave - 28 days paid holiday (including Bank Holidays)
Pension - Employer contribution pension plan with NEST.
Other Benefits
A fully funded Employee Assistance Programme that offers free life management and personal support services e.g counselling, money and legal advice etc
External professional Training provided on a range of subjects
Job location
Supported Living properties in Exeter
Job category
Care / support worker, Entry level roles, Learning disabilities, Mental health, Supported living
Profile
Caraston Hall
Type of organisation
Private
Sector
Social care
Description
24hr supported living service in Exeter supporting adults with enduring mental health needs, learning difficulties and other complex needs.
Share this job